Etienne de Lessard
1623 - 1703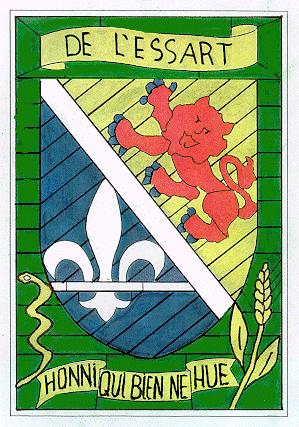 Born in 1623 in Normandy France.
Etienne de Lessard arrived in Quebec in 1645.
Lieutenant junior grade of the militia of Cote de Beaupre, he became co-lord of the Lanoraie fief in 1688.
Married to Marquerite Sevestre, Etienne de Lessard was survived by a large family of six boys and two girls.

Etienne de Lessard, son of Jacques de Lessard and Marie Herson, was born in Chambois, diocese of SEE (Orne) in Normandy.
In 1645, at the age of 22, he left France on a ship to come to New France (Canada). At the time only a few people from Europe lived in the colony of France.

Etienne owned a boat and was associated with Martin Grouvel who was a navigator from Quebec.

This work gave him the opportunity to go from Tadoussac to Trois-Rivieres on the St-Laurence river for the purpose of transporting merchandises. Surely he was trading furs, because in those days it was the best way to make money quickly.
First habitation of Quebec from a drawing of Champlain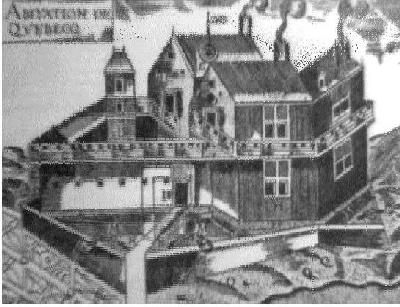 | | |
| --- | --- |
| The arrival of a ship in Quebec | Flag of New France |
LIFE OF ETIENNE
On February 10, 1651, Etienne obtained a land from Olivier Letardif one of the members of the Company de Beaupre.
This land was 10 frontal acres on the St-Laurence river and 5 miles in land.
To help him develop the land which he called St-Etienne, he hired men; Michel Marquiseau, Urbain Jamineau et Jean Chauvet aka Lagerne.
Etienne was a busy man, he was in business with many people like Charles Audet, Sir de la Chesnaie from Quebec et David Biaille Sir de St-Meur de la Rochelle in France.
Lessard owned a boat of about 30 feet long by 13 feet large, with it, he was transporting merchandises even after he took possession of his domain in 1651.
But his principal occupation seems to have been farming.
On April 8, 1652 Etienne de Lessard married Marguerite Sevestre, daughter of Charles Sevestre, Lieutenant of the jurisdiction of Quebec.
The marriage was in Quebec. The marriage contract was done by notary (public) Audouart.
Etienne was 29 and Marguerite 15.
The witnesses at the marriage were : Mr. de Lauson (Governor), Mr. de Lauson (son), Mr. Chartier.
The couple made their home at Ste-Anne-de-Beaupre called then Ste-Anne des Petits Caps.
The Lessard couple had their first child on April 1, 1653, one year after their marriage.
It was a son and they decided to call him Etienne like dad.
The second baby was also a son, Charles was born June 5, 1656.
On March 8, 1658 Etienne gave away to the Catholic Church two frontal acres located on the West end of his land so that a chapel can be built. This chapel became the Ste-Anne-de-Beaupre basilica.
Etienne gave this land to M. Gabriel de Queylus Vicar general in New France.
The first contract was done by notary (public) Audouart. It was ratified by The Bishop of Laval on December 17, 1666 and renewed by a second contract in 1684 by notary Genaple.

Bishop of Laval


Second church (1689)
it was demolished at the end of the 19th century

The basilaca in 1960

Note: In 1922 after the fire of the basilica another contract had to be signed by Napoleon Lessard the direct descendant of Etienne and the Redemptorist Fathers. By this contract Napoleon gave away the Lessard's right to a bench in the church.

August 4, 1658 a third baby was borned, a son named Pierre.
In February 1662, Marie Pichon, the wife of the defunct Charles Sevestre, the mother in-law of Etienne died.
Etienne and his wife inherited a house on Notre-Dame Street in Quebec city.
Etienne rented this house:
September 14, 1669 to Simmon-Francois Daumont de St-Lucon.
August 19, 1670 to Jean de Gaye.
December 19, 1679 to Charles Catignon.
On the night of the 4th of August 1682 a fire destroyed the house.
On April 6, 1683 the remain of the house was sold to Francois Hazeur and Etienne Landeron.

A month after the death of Marie Pichon, on March 29, 1662. Marie-Therese was borned. She was baptize at Chateau Richer.
| | |
| --- | --- |
| Quebec in the 17th Century | Chateau Richer (1807) |
September 4, 1664. Marguerite named after her mother was borned, but she died on December 7, 1665.
September 27, 1666. another girl was borned, named Anne.
March 4, 1669. A boy named Noel was borned.
February 28, 1672. Another boy, Joseph.
June 10, 1674. Another boy Prisque was borned.
And finally the couple had their last children; twins Jacques and Dorothee borned February 1677.
That same year Etienne became the first Owner of L'Ile-aux-Coudres.
This estate was granted March 4, 1677. By Sir Frontenac.
But Lessard had no time for this land and he sold it to the Quebec Seminary for 100 Pounds.
In the 1681 census Etienne declared to be 59 years old, married with Marguerite Sevestre 45 years old and to have 10 children; Etienne 28, Charles 26, Pierre 24, Marie-Therese 20, Anne-Dorothee 15, Noel 12, Joseph 10, Prisque 7, Jacques and Dorothee (twins) 4 years old.
The couple had a daughter named Marguerite born September 4, 1664, she died December 7, 1665.
He also declared to own:
3 Guns
7 Cows
40 farmable acres, on which was growing wheat, barley, peas and cabbage.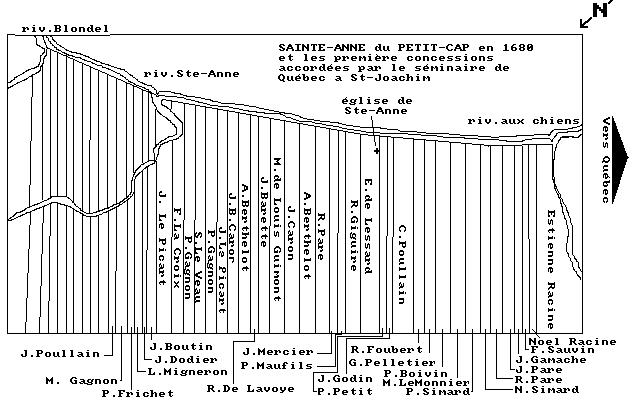 Etienne was a Militia Captain in 1684 in Ste-Anne-de-Beaupre.
On April 27, 1688. He became co-owner of the Lanoraie, estate located between Trois-Rivieres and Montreal.
He sold his part of the estate on March 12, 1698 to Jean Bredel the notary was Charles Rageot.
On March 24, 1699. Because of their old age, Etienne et Marguerite gave away all they had to Prisque and Joseph.
In return the two children had to take care of Etienne and Marguerite until they died. Etienne was 76 years old when he signed this contract, Marguerite was 60, Prisque was 24 and Joseph 27.
Etienne died on April 21, 1703 at the age of 80 and Marguerite died on November 27, 1720 at the age of 83 years old.
Etienne was put to earth under the sacristy of the Ste-Anne-de-Beaupre church.
I think that he was probably a victim of the smallpox epidemic that was going on at the time in Quebec.
MARGUERITE SEVESTRE
Charles Sevestre the father of Marguerite had 5 girls with is wife Marie Pichon.
Marguerite married to Etienne de Lessard.
Denyse married to Philippe Neveu or Nepveu.
Marie-Madeleine married to Jacque Loyer, Sir de la Tour.
Marie married to Louis de Niort de la Noraye.
Catherine married to Louis Rouer, Sir de Villeray. (he was judge de Beaupre from 1662 to 1663).

Louis de Niort de la Noraye: He was part of the Carignan regiment, he would have preferred to never set foot on this land that was New France. He asked to be removed from the list of the regiment but the Minister Colbert told him that the king of France would not tolerate a defection.
He had to travel through the country and learn to tame it. He managed to tame it so well that after his dismissal from the regiment he took Marie Sevestre as a wife and decided to stay in New France. Because of his marriage with Marie he became the owner of many acres of lands and less than two weeks after the marriage he started to buy land.
He bought the "prairie a Duquet", than the land of Raymond Paget aka Quercy, than 54 acres of farmable land which made them great land owners.

Colbert ship

Louis Rouer Sir de Villeray: Was from a noble family in Amboise. His father after losing his fortune became the chamber valet of Anne d'Autriche. Louis came to New France with M. de Lauson, and after serving him well became secretary of the governor.
In 1654 he was a notary in Quebec, 4 years later, he married Catherine Sevestre.
In 1659 he was lieutenant in Quebec.
He was first advisor for the superior counsel when it was created in 1663.
Jacques Loyer de la Tour: He was sergeant of the fort of Quebec, he married Marie-Madeleine.
GENEALOGY
April 8,1652 - Quebec - Etienne de Lessart married Marguerite Sevestre.
April 27, 1699 - l'Ange Gardien - Prisque de Lessard married Marie Jacob ( Meunier).
August 28, 1741 - Château Richer - Pierre Lessard married Jeanne Cloutier(second marriage).
July 8, 1765 - St-Joseph de Beauce - Pierre Lessard married Suzanne Guay.
January 21, 1788 - St-Joseph de Beauce - Jacques Lessard married Véronique Gagné.
Novembre 8, 1825 - St-Joseph de Beauce - Jacques Lessard married Angélique Plante.
Octobre 4, 1870 - St-Victor - Eugène Lessard married Adèle Breton.
Septembre 26, 1892 - Sacré-Coeur-de-Jésus - Cléophas Lessard married Marie Jacques.
Febriary 15, 1915 - Sacré-Coeur-de-Jésus - Cléophas Lessard married Georgiana Leclerc.
June 5, 1943 - Sacré-Coeur-de-Jésus - Dorilas Lessard married Florence Jacques.
May 14, 1977 - Palais de Justice de Montréal - Daniel Lessard married Carole Pinto.
Note: It was Pierre Lessard who was the first Lessard to make his home in Beauce in 1760.
The descendants of Etienne de Lessard and of Marguerite Sevestre have spread out all over North America but they are in great number in the region of Quebec and Beauce.

When they arrived, the first settlers would build very small houses made of tree (log cabin).
Only one little window and one door.


.
This house is located on the same spot of
the first house of Etienne de Lessard.

REFERENCES
Gérard Lebel, C. Ss. R. priest and archivist - Ste-Anne-de-Beaupré.
Répertoire de marriage de Ste-Anne-de-Beaupré.
Histoire du Canada Français by B. Sulte.
Jugement et délibération Conseil Souverain de la Nouvelle-France.
Greffes des notaires.
Dictionaire de généalogie des fammilles Canadiennes by G. Tanguay.
Mémoires de la société généalogique Canadienne Française.
Pièces et documents relatifs à la tenue seigneurial.
Montréal library.

Copyright©2000 Daniel Lessard. All Rights Reserved
This Genealogie Quebec Genealogy site owned by Daniel Lessard.
[ Previous 5 Sites | Previous | Next | Next 5 Sites | Random Site | List Sites ]