THE VECTREX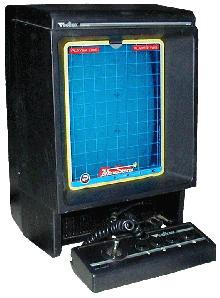 The Vectrex became available in late 1982 for $199 from General Consumer Electronics (GCE). In early 1983, Milton-Bradley acquired GCE.
It uses vector "line" graphics (as opposed to raster "pixel" graphics).
The machine has a 9 x 11 inch black and white screen and comes with a built-in Asteroids clone called Minestorm. The games come with plastic overlays that slide over the screen to cut down on flicker and give some illusion of color. It uses one of the most advanced 8 bit processors, the 68A09 (6809 with 1.5MHz clock speed), and a popular and excellent sound chip, General Instruments AY-3-8192, which can produce a wide range of noises. Also included is a 1.5 inch, self-centering, joystick with 4 buttons on the right. It uses an analog/potentiometer system allowing differing degrees of directional input.
The machine's footprint takes up a little less than a square foot on a desk (in fact, it quite resembles a jet black Macintosh SE without mouse and keyboard), and can be operated easily in that area. The joystick is connected via a springy telephone-like cord and can be folded into the base of the machine for portability. The machine is moderately transportable and very well constructed but, alas, very much extinct.
Discontinued by the end of 1984 due to the Great Video Game Depression of '82 which forced Milton Bradley to discontinue production due to to poor sales.
Model - 3000-C1
SN; 1023604
Made in Hong Kong