What can I say about Bill Gates that you don't already know?
Please Read HOW HE DID IT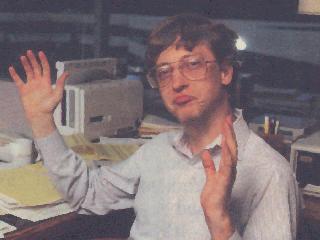 Do you know what the computer behind Bill' s right hand is?
Click on Bill to find out.
.
Birth date: October 28, 1955
Education: Public elementary school. Entered private Lakeside School at age 12. Dropped out of Harvard University junior year.
Native City: Seattle, Washington
Little known fact: His family called him "Trey," in reference to the III after his name.
Hobbies: Bridge, golf, reading, philanthropy.
Claim to fame: Leader of the computing software's industry.
Net worth: Bill's all-time high net worth is $88.82 Billion. Visit Bill Gates Net Worth Page.
Preferred foods: Cherry Coke and spray cheese
Annoying traits: Compulsive rocking, glasses that won't stay perched on bridge of his nose.
Family: wife, Melinda; daughter, Jennifer, born 1996; son, Rory, born 1999.
.
Gates and his two sisters grew up in Seattle. Their father, William H. Gates II, is a Seattle attorney. Their late mother, Mary Gates, was a schoolteacher, University of Washington regent, and chairwoman of United Way International.
Gates attended public elementary school and the private Lakeside School. There, he discovered his interest in software and began programming computers at age 13.
In 1973, Gates entered Harvard University as a freshman, where he lived down the hall from Steve Ballmer, now Microsoft's president and chief executive officer. While at Harvard, Gates developed a version of the programming language BASIC for one of the first microcomputer - the MITS Altair.
In Feb 1977 Bill Gates and Paul Allen sign a partnership agreement to officially create the Microsoft company.
-
Bill Gates was the first programmer to call attention to piracy problem. In February 1976, he wrote an Open letter to Hobbyists, which was published, among other places, in the Homebrew Computer Club Newsletter, in which he lamented the widespread larceny of paper tape copies of his BASIC and called the hobbyists thieves. The letter had no effect whatever on the hobbyists except to anger them further at the $500 charged for his BASIC.
-
He now (2001) lives near Seattle, with his wife Melinda French Gates they married on Jan. 1, 1994. The couple has two children: a daughter, Jennifer Katharine Gates, born in 1996; and a son, Rory John Gates, born in 1999.
Click here for a photo of the couple playing golf.
As Microsoft's Chairman and Chief Software Architect, Bill Gates works with the company's development teams to turn great ideas into innovative software and services.
-----HOME SWEET HOME-----
The multimillion-dollar house that seems more like a convention center than a billionaire's retreat, is situated along the east bank of Lake Washington, just south of the 520 bridge [MAP]
Here is a picture of the home being built. A waterfront home costing more than $50 million US. [DATA]
Click on the house to see what it should have looked like when done.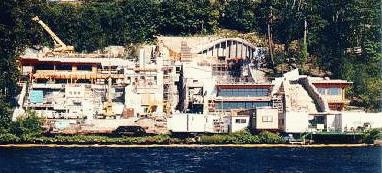 Here is the house in 1999, Click on it to enlarge it.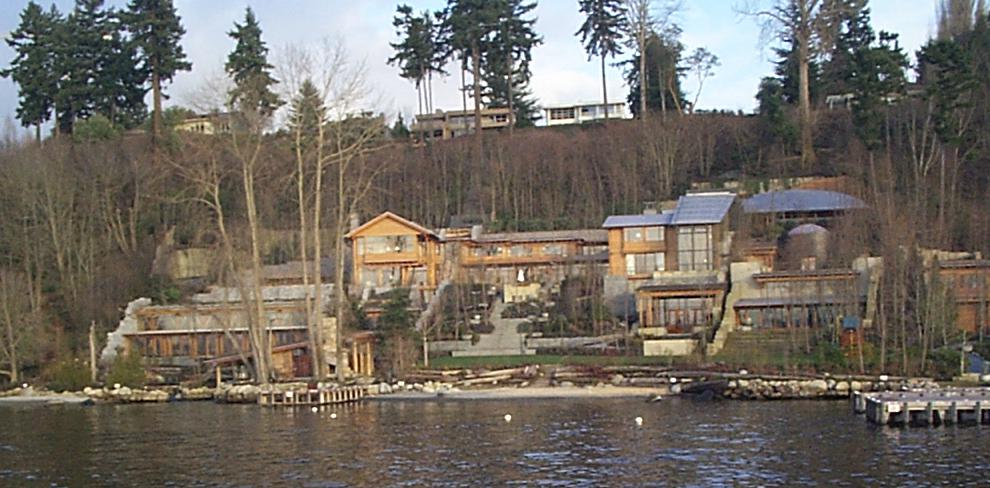 Or go inside the Gates mansion.

On February 4th, 1998, Bill Gates was hit by a cream pie in Brussels.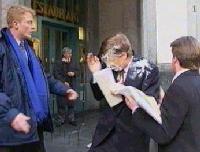 The offender, a Belgian man, got away. Download the movie (750k).
-----HOW IT WAS-----

Mug shot of Bill Gates.
taken for a minor traffic violation in New Mexico when he was 21.
---
The PC 77 convention in Atlantic City, August 1977.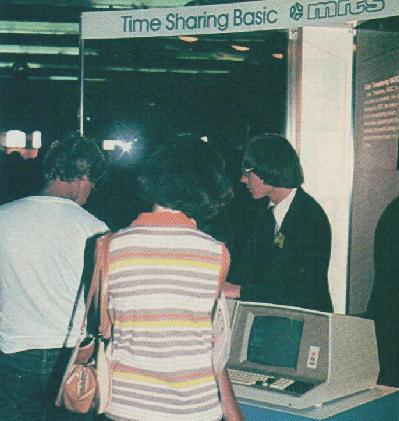 Who is the kid in the Altair booth?

-----OTHER INTEREST-----

In addition to his love of computers and software, Gates is interested in biotechnology. He sits on the board of ICOS, a company that specializes in protein-based and small-molecule therapeutics, and he is an investor in a number of other biotechnology companies. Gates also founded Corbis, which is developing one of the world's largest resources of visual information - a comprehensive digital archive of art and photography from public and private collections around the globe. In addition, Gates has invested with cellular telephone pioneer Craig McCaw in Teledesic, which is working on an ambitious plan to employ hundreds of low-orbit satellites to provide a worldwide two-way broadband telecommunications service.
-
Philanthropy is also important to Gates. He and his wife, Melinda, have endowed a foundation with more than $21 billion to support philanthropic initiatives in the areas of global health and learning, with the hope that as we move into the 21st century, advances in these critical areas will be available for all people. To date, the Bill and Melinda Gates Foundation has committed more than $2 billion to organizations working in global health; more than $500 million to improve learning opportunities, including the Gates Library Initiative to bring computers, Internet Access and training to public libraries in low-income communities in the United States and Canada; more than $200 million to community projects in the Pacific Northwest; and more than $29 million to special projects and annual giving campaigns.
---